Are you planning to import cars, industrial machines and finished goods into Nigeria and you are worried because of the stress involved in clearing goods from most sea ports in the country? If that is the case! Well I say worry less because after reading through this article you will discover how to clear your imported goods from ports like Apapa/Tin can Lagos without stress.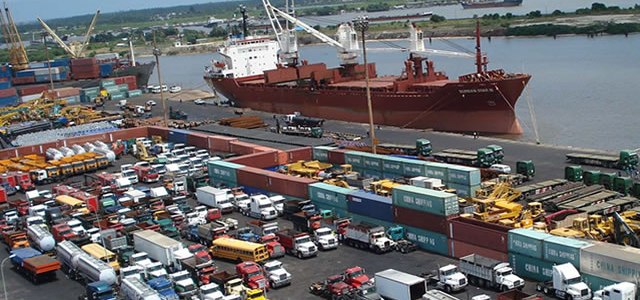 Clearing of imported goods from most ports in Nigeria is never an easy thing as a result of port congestion and the activities of dubious clearing agents operating in our ports.
But if are conversant with port procedures for clearing imported goods in the country happy will you be!
Well, to clear goods easily from the various sea ports in Nigeria, there are layered down government procedures or processes you must follow. Not knowing and not following the layered down CUSTOMS procedures, NAFDAC and SON requirements for clearing imported goods can led to a delay and even out right confiscation of your items at the ports.
It is indeed very important to know and understand these basic procedures for clearing all approved goods that can be imported in the country for easy clearance.
Below are procedures to follow for easy clearance of all imported goods from any sea port in Nigeria.
ENGAGE THE SERVICES OF AN ACCREDITED CUSTOMS CLEARING AGENT.
By government regulations, it is impossible for you to clear goods directly at the ports. Therefore you need the services of an accredited customs clearing agent who will facilitate the clearing of your imported goods at certain fees.
The clearing agent will on your behalf, process the necessary papers with various government agencies charged with clearing of imported goods at the ports. E.g. CUSTOMS, NAFDAC, NDLEA, SON and others.
To find accredited customs clearing agents is not difficult, as there are many of them in most of the ports premises e.g in Apapa and Tin can ports in Lagos. But be very careful not to fall into the hands of dubious clearing agents in the port. A lot of importers have had their goods delayed or impounded in the ports by the Nigerian CUSTOMS, NAFDAC and SON due to the activities of dubious clearing agents who evade paying the prescribed import duties but instead resulted to forging clearance papers. So open your two eyes wide!
EXAMINATION OF GOODS AND PAYMENT OF IMPORT DUTIES.
To clear your goods without stress you must make available all the necessary import documents to enable your clearing agent start processing the clearance.
The agent takes the bill of laden to NPA central office for planning and information at the port of clearance to get necessary info about the ship arrival date and berthing point. Also the agent gets info on the import duties payable to customs and whether there is a need for various ports agents to carry out physical inspection of the goods.
The import document you must make available to your agent for processing includes. (1) Original bill of lading or telex release,
(2) Invoices (attested), (3) Packing list (4) Insurance certificate.
After, the actual import duties for the goods is determined the next step is for the agent to pay the money to a designated bank, follow by a physical inspection of the goods by the CUSTOMS, NAFDAC, NDELA and SON.
When physical inspection is carried successfully, the clearing agent then goes to the shipping company that brought in the goods and Nigerian Ports Authority to pay certain service charges before the goods is hand over to the importer to take home.
Hope your worries has been taken care of through this article, I believe you can now go ahead to import those cars, industrial machines and finished goods into Nigeria without stress.
Please always ensure you compel the clearing to pay the correct import duties at the ports, failure to do that may cause you the trouble you did not bargain for.
SEE : Cost of Clearing Imported Cars,Buses and Trucks In Nigerian Sea Ports
For easy clearing of your imported Vehicles,Industrial machines and other goods in Nigeria ports, please call Mr Maxwell at
NPA Maritime Workers Building,
Tin-Can Port First Gate,
Lagos.
Tel: +2348022233386 or +2348062630521
Remain blessed.
(Visited 3,166 times, 1 visits today)