Tag Archives:
Dr. Farrah Gray
Farrah Gray is an American businessman, investor, philanthropist, author, syndicated columnist, and motivational speaker. At just 27, he has been able to put in more in a lifetime than most will.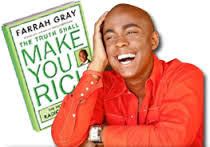 Dr. Farrah Gray was named as one of the most influential Black men in America by the National Urban League's Urban Influence Magazine and Ebony Magazine recognized him as an entrepreneurial icon, business mogul and best-selling author.
Would you like to attend the MTN Nigeria Leadership Seminar with Dr. Farrah Gray (24th -27th April 2012)?
If yes then read further to discover how to register for these leadership seminar that MTN Nigeria promises will empower and enrich dreams of Nigerians through quality information and small scale business grants (N40million Naira).
In its continued commitment to facilitating the richer life in all its ramifications, MTN Nigeria unarguably the nation's widest telecommunications network is offering a first of its kind in terms of aid and assistance to start-ups and small businesses.
Tagged the MTN Nigeria Budding Entrepreneur Business Grant, its aim is to see the dreams of still budding businesses come to full bloom and fruition. The grant sum which comes to the tune of 30 million naira will be given to the 3 best ideas at the MTN Nigeria Leadership seminar which is to take place from the 24th -27th April 2012 in Lagos and Port-Harcourt with the brightest idea of them all also getting a 6 month mentorship program with Dr Farrah Gray – world renowned businessman, investor, philanthropist, author, syndicated columnist, and motivational speaker.
MTN Nigeria: Leadership Seminar with Dr. Farrah Gray (Online Registration requirement)