MUST READ! 16 States Ready For FG's Cattle Colonies For Herdsmen
Sixteen of the 36 states have signified intention to be part of the cattle colonies initiative of the federal government of Nigeria, The Nation can now reveal.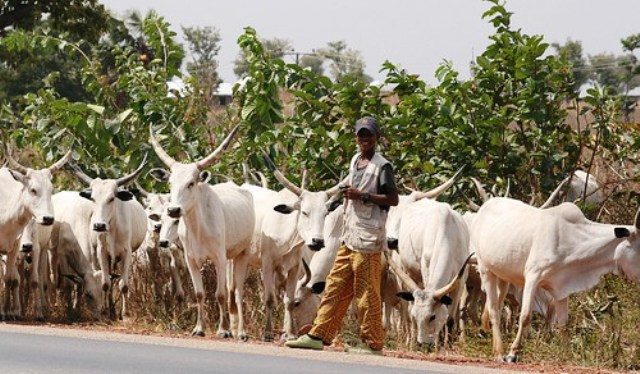 More are expected to join, according to Dr. Olukayode Oyedele, Special Assistant to Agriculture Minister, Audu Ogbeh. Oyedele did not name the 16 states or those in line to join the initiative.
But Taraba, Benue and Abia states have categorically declared that they should be counted out.
Ogbeh, who has been holding series of meetings with stakeholders on the project, defined the 'colony' as "a place where many owners of cattle can co-exist, be fed well, because we can make their feeds; they can get good water to drink, cows drink a lot of water and we can give them green fodder."
Government, according to him, will provide veterinary services for the animals and "protect the cows against rustlers."
"By a special design, we have to make sure that rustlers can't cross into the ranches and steal cows and walk away," he said. Each colony will comprise between 20 and 40 co-located ranches.
The scheme is part of the strategy to check the incessant clashes between farmers and pastoralists whose animals often stray into cultivated farms and destroy crops.
Such clashes have claimed hundreds of lives across the country, setting communities and communities and endangering national security.
It was gathered that Kogi and Plateau states are among the enthusiastic supporters of the cattle colony initiative.
Plateau already has a few ranches which may grow into colonies
However, the support of the governors for the project is not without opposition from some communities and opinion leaders in their states.
In Kogi State for example, the Chairman of the House of Representatives Committee on Capital Market and Institutions, Mr. Teejay Yusuf, asked Governor Yahaya Bello to tread cautiously on the matter "in the interest of coming generations."
Yusuf said the governor should shun the temptation of taking unilateral decisions on the scheme.
Another member of the House of Representatives from the state, Mr.James Faleke, berated the governor for buying into the initiative without proper consultation with the people while a group called Igala Project from the Kogi East Senatorial District has commenced compiling signatures in support of a petition against the establishment of any such colony in the senatorial district.
The group is objecting to Bello's alleged designation of part of the district as a cattle colony, saying its position follows "the multiple acts of war and mayhem being unleashed daily, on our innocent farmers and hapless law-abiding citizens, in their villages, homes and farm lands , by rampaging Fulani herdsmen."
It adds: "between June 2015 and December 2017, Igala land has witnessed several incidences of killings as a result of herdsmen violence in several areas including Ebeje where eight people were killed and farms set ablaze, Agbada/Agojeju where 19 people were slaughtered, Edede – two persons were killed, six people killed in Oganenigu, three people killed in Ojapata, five people killed in Ojuwo Anawo. All these happened in Dekina Local Government Area."
Audu is quoted as saying: "once the colonies begin, we are also going into large scale artificial insemination to improve the breed of cattle so that the yield of milk can increase.
"As at today, our cows deliver just about one beer bottle which is a litre of milk a day but in East Africa, cows do 15 litres of milk, and in Europe, they do averagely 50 litres of milk a day.
"Somebody said to me in a text, very angry at this policy, that the word colony means that we are trying to use the Fulani to colonize their state, and that it reminds them of colonialism.
"Well, we don't really want to take anybody's land to give anybody."
"We won't come to a state, take land and give Fulani or Hausa or Itsekiri or Idoma or Tiv and say this area has been seized and given to an ethnic group. That's not the idea but we'll also tell the herdsmen: 'If you are passing through a state, you can only go to the colony and stay there, feed your cattle and, when you are moving off, agro -rangers will follow you and make sure you don't destroy anybody's farm.'"
And speaking to reporters in Zaria, Kaduna State yesterday on the sideline of his tour of facilities of research institutes in the university town, Ogbeh blamed state governors during the Jonathan administration for the farmers/herdsmen clashes in the country.
He claimed that the governors received N100 billion to solve the crisis without anything to show for it.
His words: "In 2014, President Goodluck Jonathan gave N100 billion to state governors to solve the farmers/herdsmen crisis once and for all.
"Though, I don't have the details, it doesn't appear anything was done.
"If the money went to the states and they have done nothing, what do you expect?
"Let me ask: we have three tiers of government, why does everybody blame Buhari at the centre all the time? Why don't we ask our state governments questions? "
Credit/Source: The Nation
(Visited 1 times, 1 visits today)